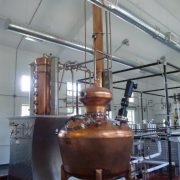 The March-April edition of New Hampshire Home Magazine features an article on one of Bergeron Technical's projects, Tamworth Distilling and Mercantile. Bergeron Technical Services provided Project Administration, Planning and Design Services for the project in its entirety. Beautiful photos in the article highlight the Distillery and repurposed Tamworth Garden building. The Distillery is a brand new, state of the art building, built to resemble a 19th century New England barn in homage to the distinct agricultural origins of the practice of distilling, while utilizing today's technology to ensure an efficient and safe building. The barrel house was originally built in the 1890's and was an exposition center used for boxing matches and basketball games; it was later used by the historic Barnstormers Theater for rehearsals and summer performances, it sat vacant for many years before being moved, renovated and reconfigured as the Distillery's Barrel House. The Garden's gallery seating lofts are still intact, giving this building a new purpose while maintaining a vital historical feature harkening back to the Town of Tamworth's colorful and rich past.
Read the article here: Tamworth Distilling Article from Spring 2017 edition of NH Home
Architect: Distillery – SISR Architecture, Marlow, NH; Barrel House – Bergeron Technical Services, North Conway, NH
Structural Engineer: JSN Structural Engineers, Portsmouth, NH
Construction: Bauen Corp., Meredith, NH
/
by bergeron
https://www.bergerontechnical.com/wp-content/uploads/2016/11/DSC07498.jpg
768
576
bergeron
http://bergerontechnical.com/wp-content/uploads/2016/05/bergeron-technical-logo.png
bergeron
2017-03-07 18:04:50
2017-03-07 18:25:31
Tamworth Distillery Featured in NH Home Magazine

KATE RICHARDSON RECEIVES CFPS
Bergeron Technical Services of North Conway is pleased to announce the certification of associate Kate Richardson as a Fire Protection Specialist.
The Certified Fire Protection Specialist (CFPS) program is operated by the National Fire Protection Association. The Certified Fire Protection Specialist Board was formed in 1971 for the purpose of documenting competency and offering professional recognition for individuals involved in fire protection, fire safety, and fire prevention and the CFPS is internationally recognized as a mark of achievement within the fire protection field. 
Individuals must pre-qualify for eligibility to become a CFPS by demonstrating sufficient education and/or work experience within the Fire Protection field before passing an examination exhibiting that knowledge.
Bergeron Technical Services provides many consultant and design services relative to the fire prevention, safety and protection of sites and structures including Life Safety inspections and plan reviews, building and site design services, fire protection systems design, fire code inspections, reviews and analyses and third party plan reviews for the State of NH Fire Marshal's Office.
Kate joins Bergeron Technical Services' owner/manager Shawn Bergeron in achieving this certification to mark their knowledge and experience within the field of Fire Protection. In addition to the CFPS, Kate is also certified by the International Code Council as an Accessibility Inspector/Plans Examiner and Residential Inspector as well as being licensed and permitted in the State of NH as a Home Inspector and Septic System Designer.
/
by admin
https://www.bergerontechnical.com/wp-content/uploads/2016/09/index.jpg
120
120
admin
http://bergerontechnical.com/wp-content/uploads/2016/05/bergeron-technical-logo.png
admin
2016-09-16 01:49:01
2016-09-16 01:50:58
Kate Richardson Receives CFPS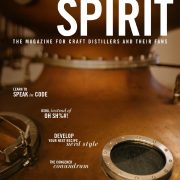 SHAWN BERGERON IS PUBLISHED IN ARTISAN SPIRIT MAGAZINE
Shawn Bergeron of Bergeron Technical Services, LLC, located in North Conway, has had his authored article on Building Codes and how they relate to the design and construction of distilleries published in the Winter 2015 edition of Artisan Spirit Magazine.
Artisan Spirit Magazine is the self-professed magazine for craft distillers and their fans and is published by Artisan Spirit Media of Spokane, Washington and distributed nationally in print and on-line.
Bergeron and his company managed the design and construction of Tamworth Distilling in Tamworth NH and have since worked on several additional distillery projects, from NH to Alaska. Recognized as experts in the field of building and fire code interpretation and navigation, Bergeron Technical Services is able to assist existing and potential distillery owners and operators with ensuring their buildings and systems are code compliant and, most importantly, safe, while also beautiful and functional.
Bergeron's article in Artisan Spirit is the first of a series detailing how a distillery is classified as an occupancy and how to navigate the building and fire codes to determine which requirements are necessary and where most people get tripped up when doing code review and design in the specialized field.
Shawn's article, and subsequent articles in the series, can be viewed online at Artisan Spirits' website, http://artisanspiritmag.com/current-issue/
Shawn's Winter 2015 article: http://issuu.com/artisanspiritmag/docs/artisanspirit_issue013_web/70?e=7606545/32279366
Shawn's Spring 2016 article: http://issuu.com/artisanspiritmag/docs/artisanspirit_issue014_web/81?e=7606545/34823921
/
by admin
https://www.bergerontechnical.com/wp-content/uploads/2016/09/artisanspiritmagazine.jpg
1496
1156
admin
http://bergerontechnical.com/wp-content/uploads/2016/05/bergeron-technical-logo.png
admin
2016-09-16 01:47:07
2016-09-16 01:52:58
Shawn Bergeron is Published in Artisan Spirit Magazine